Fifa World Cup
The 2010 FIFA World Cup was the 19th FIFA World Cup, the world championship for men's national association football teams. It took place in South Africa from 11 June to 11 July 2010. The bidding process for hosting the tournament finals was open only to African nations; in 2004, the international football federation, FIFA, selected South Africa over Egypt and Morocco to become the first African nation to host the finals.
Host selection
Africa was chosen as the host for the 2010 World Cup as part of a short-lived policy, abandoned in 2007,[1] to rotate the event among football confederations. Five African nations placed bids to host the 2010 World Cup: Egypt, Morocco, South Africa and a joint bid from Libya and Tunisia!
Qualification
The qualification draw for the 2010 World Cup was held in Durban on 25 November 2007. As the host nation, South Africa qualified automatically for the tournament. As happened in the previous tournament, the defending champions were not given an automatic berth, and Italy had to participate in qualification. With a pool of entrants comprising 204 of the 208 FIFA national teams at the time, the 2010 World Cup shares with the 2008 Summer Olympics the record for most competing nations in a sporting event.
List of qualified teams
The following 32 teams, shown with final pre-tournament rankings,[13] qualified for the final tournament.
AFC (4)
Australia (20)
Japan (45)
Korea DPR (105)
Korea Republic (47)
CAF (6)
Algeria (30)
Cameroon (19)
Côte d'Ivoire (27)
Ghana (32)
Nigeria (21)
South Africa (83) (hosts)
CONCACAF (3)
Honduras (38)
Mexico (17)
United States (14)
CONMEBOL (5)
Argentina (7)
Brazil (1)
Chile (18)
Paraguay (31)
Uruguay (16)
OFC (1)
New Zealand (78)
UEFA(13)
Denmark (36)
England (8)
France (9)
Germany (6)
Greece (13)
Italy (5)
Netherlands (4)
Portugal (3)
Serbia (15)
Slovakia (34)
Slovenia (25)
Spain (2)
Switzerland (24)
Preparations
Five new stadiums were built for the tournament, and five of the existing venues were upgraded. Construction costs were expected to be R8.4 billion (just over US$1 billion.)
Prize money
The total prize money on offer for the tournament was confirmed by FIFA as $420 million (including payments of $40m to domestic clubs), a 60 percent increase on the 2006 tournament. Before the tournament, each of the 32 entrants receive $1 million for preparation costs. Once at the tournament, the prize money would be distributed as follows:
$8 million – To each team exiting after the group stage (16 teams)
$9 million – To each team exiting after the round of 16 (8 teams)
$14 million – To each team exiting after the quarter-finals (4 teams)
$18 million – Fourth placed team
$20 million – Third placed team
$24 million – Runner up
$30 million – Winner
Venues
In 2005, the organisers released a provisional list of thirteen venues to be used for the World Cup: Bloemfontein, Cape Town, Durban, Johannesburg (two venues), Kimberley, Klerksdorp, Nelspruit, Orkney, Polokwane, Port Elizabeth, Pretoria, and Rustenburg. This was narrowed down to the ten venues that were officially announced by FIFA on 17 March 2006.
The altitude of several venues affected the motion of the ball and player performance, although FIFA's medical chief downplayed this consideration.Six of the ten venues were over 1200m above sea level, with the two Johannesburg stadiums (Soccer City and Ellis Park) the highest at approximately 1750m.The stadiums in order of altitude are: Soccer City and Ellis Park Stadium, 1753m; Royal Bafokeng Stadium, 1500m; Free State Stadium, 1400m; Peter Mokaba Stadium, 1310m; Loftus Versfeld Stadium, 1214m; Mbombela Stadium, 660m; Cape Town Stadium, Moses Mabhida Stadium and Nelson Mandela Bay Stadium near sea level.
Group stage
The first round, or group stage, saw the thirty-two teams divided into eight groups of four teams. Each group was a round-robin of six games, where each team played one match against each of the other teams in the same group. Teams were awarded three points for a win, one point for a draw and none for a defeat. The teams finishing first and second in each group qualified for the Round of 16.
Tie-breaking criteria
Teams were ranked on the following criteria:
1. Greater number of points in all group matches
2. Goal difference in all group matches
3. Greater number of goals scored in all group matches
4. Greatest number of points in matches between teams
5. Goal difference in matches between teams
6. Greatest number of goals scored in matches between teams
7. Drawing of lots by the FIFA Organising Committee
MATCHES HIGHLIGHTS
Group A
11/06 South Africa 1:1 (0:0) Mexico
12/06 Uruguay 0:0 France
17/06 South Africa 0:3 (0:1) Uruguay
18/06 france 0:2 (0:0) Mexico
22/06 Mexico 0:1 (0:1) Uruguay
22/06 France 1:2 (0:2) South Africa
Group B
12/06 Argentina 1:0 (1:0) Nigeria
12/06 Korea Republic 2:0 (1:0) Greece
17/06 Greece 2:1 (1:1) Nigeria
17/06 Argentina 4:1 (2:1) Korea Republic
23/06 Nigeria 2:2 (1:1) Korea Republic
23/06 Greece 0:2 (0:0) Argentina
Group C
13/06 England 1:1 (1:1) USA
13/06 Algeria 0:1 (0:0) Slovenia
19/06 England 0:0 Algeria
23/06 Slovenia 0:1 (0:1) England
23/06 USA 1:0 (0:0) Algeria
Group D
14/06 Germany 4:0 (2:0) Australia
13/06 Serbia 0:1 (0:0) Ghana
18/06 Bay/Port Elizabeth Germany 0:1 (0:1) Serbia
19/06 Ghana 1:1 (1:1) Australia
24/06 Ghana 0:1 (0:0) Germany
24/06 Australia 2:1 (0:0) Serbia
Group E
14/06 Netherlands 2:0 (0:0) Denmark
14/06 Japan 1:0 (1:0) Cameroon
19/06 Netherlands 1:0 (0:0) Japan
20/06 Cameroon 1:2 (1:1) Denmark
25/06 Denmark 1:3 (0:2) Japan
25/06 Cameroon 1:2 (0:1) Netherlands
Group F
15/06 Italy 1:1 (0:1) Paraguay
15/06 New Zealand 1:1 (0:0) Slovakia
20/06 Slovakia 0:2 (0:1) Paraguay
20/06 Italy 1:1 (1:1) New Zealand
24/06 Slovakia 3:2 (1:0) Italy
24/06 Paraguay 0:0 New Zealand
Group G
15/06 Côte d'Ivoire 0:0 Portugal
16/06 Brazil 2:1 (0:0) Korea DPR
21/06 Brazil 3:1 (1:0) Côte d'Ivoire
21/06 Portugal 7:0 (1:0) Korea DPR
25/06 Portugal 0:0 Brazil
25/06 Korea DPR 0:3 (0:2) Côte d'Ivoire
Group H
16/06 Honduras 0:1 (0:1) Chile
16/06 Spain 0:1 (0:0) Switzerland
21/06 Chile 1:0 (0:0) Switzerland
22/06 Spain 2:0 (1:0) Honduras
26/06 Chile 1:2 (0:2) Spain
26/06 Switzerland 0:0 Honduras
Knockout stage
The knockout stage comprised the sixteen teams that advanced from the group stage of the tournament. There were four rounds of matches, with each round eliminating half of the teams entering that round. The successive rounds were the round of 16, quarter-finals, semi-finals, and the final. There was also a play-off to decide third and fourth place. For each game in the knockout stage, any draw at 90 minutes was followed by thirty minutes of extra time; if scores were still level, there was a penalty shootout to determine who progressed to the next round.
Round of 16
In this round, each group winner (A-H) was paired against the runner-up from another group.
South American teams again performed strongly in the round of 16, with four teams advancing to the quarter-finals including Brazil who defeated fellow South American team Chile.
England's 4–1 loss to Germany was their worst ever defeat at a World Cup finals.
Ghana defeated the United States to become the third African team to reach the last eight (after Cameroon in 1990 and Senegal in 2002).
Paraguay and Ghana reached the quarter-finals for the first time.
Quarter-finals
The three quarter-finals between European and South American teams all resulted in wins for Europeans. Germany had a 4–0 victory over Argentina, Netherlands came from behind to beat Brazil 2–1, while Spain reached the final four for the first time since 1950 after a 1–0 win over Paraguay. Uruguay, the only South American team to reach the semi-finals, overcame Ghana in a penalty shoot-out after a 1–1 draw in which Ghana missed a penalty at the end of extra time.
Semi-finals
The Netherlands qualified for the final for the third time with a 3–2 win over Uruguay. Spain reached their first ever final with a 1–0 victory over Germany. As a result, it was the first World Cup final not to include any of the four most successful nations: Brazil, Italy, Germany and Argentina.
Third-place play-off
Germany defeated Uruguay 3–2 to secure third place. Germany holds the record for most third place finishes in the World Cup (4), while Uruguay holds the record for most fourth place finishes (3).
Final
The final was held on 11 July 2010 at Soccer City, Johannesburg. Spain defeated the Netherlands 1–0, with an extra time goal by Andrés Iniesta. Iniesta scored the latest winning goal in a FIFA World Cup final (116'). The win gave Spain their first World Cup title, becoming the eighth team to win it. This made them the first new winner without home advantage since Brazil in 1958, and the first team to win the global showpiece having lost their opening game.
Statistics
Goalscorers
South African winger Siphiwe Tshabalala was the first player to score a goal in the competition, in their 1–1 draw against Mexico, the opening game of the tournament. Danish defender Daniel Agger was credited with the first own goal of the tournament. Argentine striker Gonzalo Higuaín was the only player to score a hat-trick in the tournament.
Discipline
28 players were suspended after being shown two consecutive yellow cards (13 players), a single red card (8 players), or a yellow card followed by a red card (7 players).
Awards
Golden Ball: Diego Forlán (Uruguay)
Golden Boot: Thomas Müller (Germany)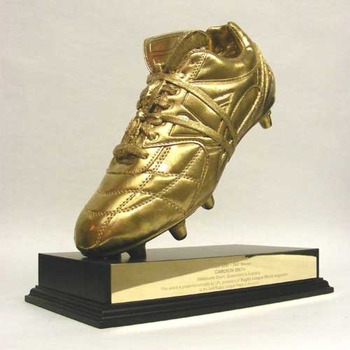 Golden Glove: Iker Casillas (Spain)
Best Young Player: Thomas Müller (Germany)
FIFA Fair Play Trophy: Spain
All-Star Team
The All-Star Team was decided by an online public vote, in which people were invited to select a team (in a 4–4–2 formation) and best coach. Voting was open until 23:59 on 11 July 2010,with entrants going into a draw to win a prize.
Six of the eleven players came from the Spanish team, as did the coach. The remainder of the team included one Brazilian, two Germans, a Dutchman and a Uruguayan.
Goalkeeper: Iker Casillas (Spain)
Defenders: Sergio Ramos and Carles Puyol (Spain), Maicon (Brazil), Philipp Lahm (Germany)
Midfielders: Andrés Iniesta and Xavi (Spain), Bastian Schweinsteiger (Germany), Wesley Sneijder (Netherlands)
Forwards: Diego Forlán (Uruguay), David Villa (Spain)
Coach: Vicente del Bosque (Spain)
Symbols
Mascot
The official mascot for the 2010 World Cup was Zakumi, an anthropomorphised leopard with green hair, presented on 22 September 2008. His name came from "ZA" (the international abbreviation for South Africa) and the term kumi, which means "ten" in various African languages. The mascot's colours reflected those of the host nation's playing strip – yellow and green.
Official song
The official song of the 2010 World Cup "Waka Waka" was performed by the Colombian singer Shakira and the band Freshlyground from South Africa, and is sung in both English and Spanish. The song is based on a traditional African soldiers' song, Zangalewa. Shakira and Freshlyground performed the song at the pre-tournament concert in Soweto on 10 June. It was also sung at the opening ceremony on 11 June and at the closing ceremony on 11 July.
Match ball
The match ball for the 2010 World Cup, manufactured by Adidas, is named the Jabulani, which means "bringing joy to everyone" in Zulu. It is the eleventh World Cup match ball made by the German sports equipment maker; it features eleven colours, representing each player of a team on the pitch and the eleven official languages of South Africa. A special match ball with gold panels, called the Jo'bulani, was used at the final in Johannesburg.
Vuvuzela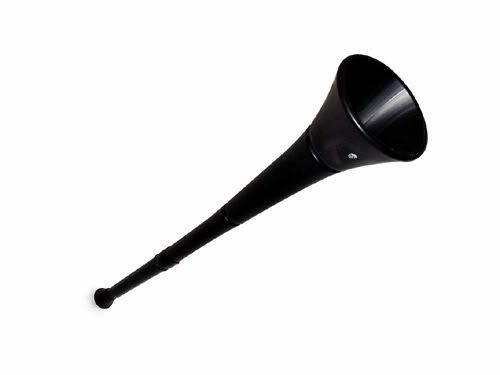 The 2010 finals amplified international public awareness of the vuvuzela, a long horn blown by fans throughout matches. Many World Cup competitors complained about the noise caused by the vuvuzela horns, including France's Patrice Evra, who blamed the horns for the team's poor performance. Other critics include Lionel Messi, who complained that the sound of the vuvuzelas hampers communication among players on the pitch,and broadcasting companies, which complained that commentators' voices were being drowned out by the sound.
isting of eight thermally bonded, three-dimensional panels.
page revision: 25, last edited:
10 Sep 2010 13:18